In observance of Presidents' Day on Monday, February 15th, there will be no school for students and the campus will be closed. Have a great three-day weekend!

Don't forget to swing the school today to pick a free breakfast and lunch pack for the kids. We are out front until 12:30!

ARCOHE KINDERGARTEN REGISTRATION 2021-2022 Arcohe School is accepting Kindergarten and Transitional Kindergarten registration starting February 1, 2021, for the 2021-22 school year. A registration packet for your child may be picked up and/or dropped off during the hours of 7:30 a.m. to 3:30 p.m. Your child's birth date must have been on or before September 1, 2016 for Kindergarten. Children with birthdays from September 2, 2016 through December 2, 2016 will be enrolled in Transitional Kindergarten. Children with birthdays from December 3, 2016 through February 28, 2017 will be considered for the Transitional Kindergarten program based on space availability.

Buy your yearbook NOW!!!!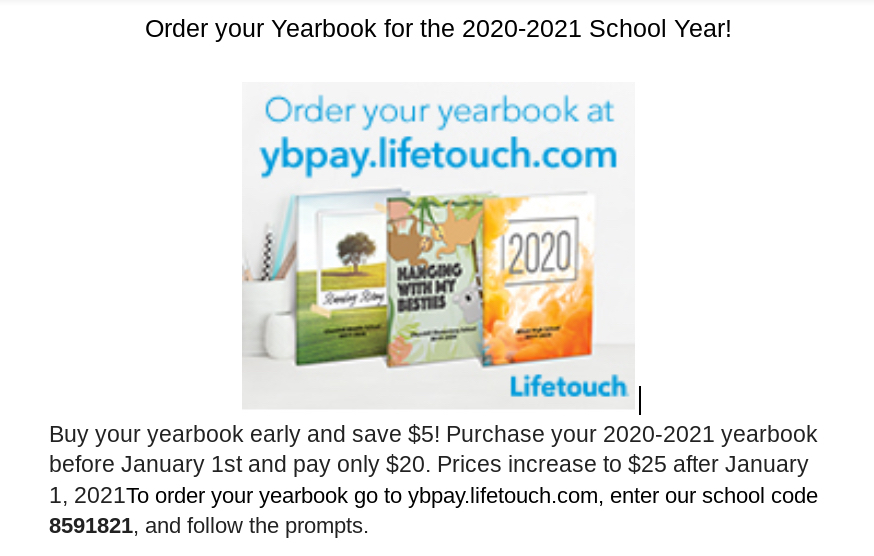 With the school closure, we will have to have families come to campus to pick up Grab and Go Meals for over break. If you are in need a meal, the cafeteria will have packages available at 1:30 on Wednesday and Thursday this in front of school.

Good afternoon Arcohe families, This is an announcement regarding school for the remainder of the week. We learned this morning we have a positive COVID-19 case on the middle school campus and a possible exposure of a staff member in the main office. Since these cases affect multiple segments and multiple cohorts, the district contacted the Sacramento Public Health Department and has decided it is in the best interest of all to close the physical campus for the remainder of the week and go back to the distance learning model. This means teachers will be contacting students through Google Meet and Google Classroom for the remainder of the week. Please check your child's Google Classroom account for more information. With school closed next week for Thanksgiving, we will have the necessary quarantine time for students to return to campus on Monday, November 30th. Students who have direct exposure to the confirmed case will be contacted directly by the main office to monitor symptoms, but we ask all families to monitor on their own over the next two weeks. If your child experiences COVID-related symptoms, please call the main office and leave a message. We would like to keep tabs on cases to make informed decisions about our next steps. Please make good choices regarding your health over this holiday break and come back well. Respectfully, Troy Miller

Just a reminder, school is out at 1:30 all week due to conferences.

Just as a reminder--there is no school tomorrow due to Veterans' Day. Thank you to all who have served our country!! We will back in session on Thursday with our "B" cohort. Be well!


Arcohe School will be participating in the "Thanksgiving Basket Project". Arcohe was assigned CANNED PEAS. Students can put donation into the large black container outside the main office door until Wednesday, Nov. 18th! THANK YOU making this charitable program a success!


Oct 26-30 is Red Ribbon Week Show your SPIRIT!!!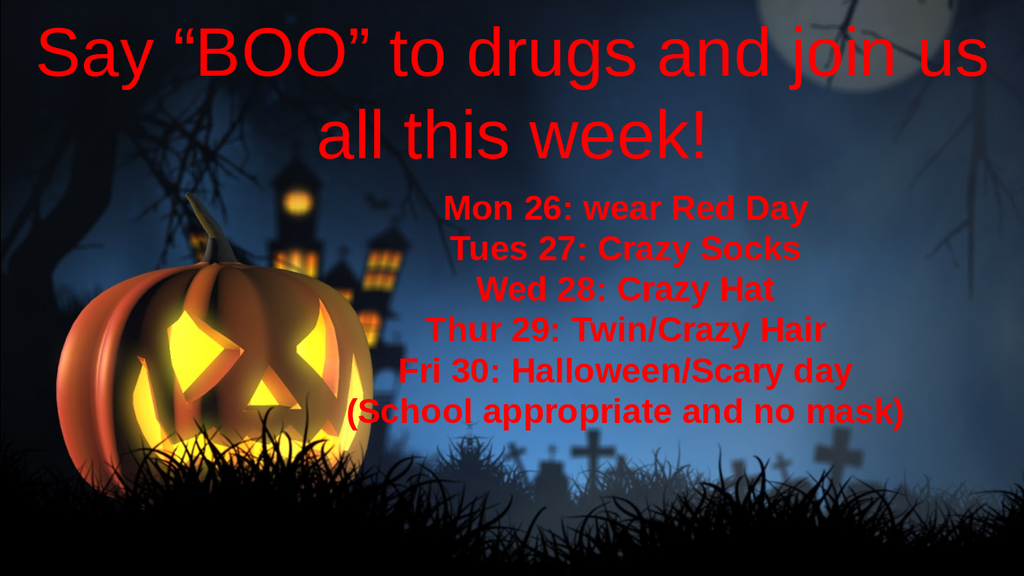 Parents -- if you did not receive a text or email, you might need to download the app called Parent Square to receive this message. This app is compatible with our new student system of Aeries. Aeries also has an app that gives you real-time access to student grades and reports.

Arcohe Families -- You should have received an email and/or text message from the school yesterday regarding a School Reopening Survey. Please take a few minutes to complete the four-question survey so we can plan appropriately. We are looking for a 100% completion rate. Thanks!

Arcohe Families -- We just finished our second full week at school and while the online instruction is moving along, we still wanted to let you know that families can receive meals from the cafeteria and payment is based on your ability to pay. With so many families still at home during this time, we wanted to remind you of this opportunity. If you would like to sign up or have questions about which pricing tier you qualify for, please contact the main office at 209-748-2313. Food is available for pickup or delivery on Wednesdays and Fridays and we have an online payment system to ensure social distancing and safety for all.