We recently placed a supplemental order for yearbooks and they have arrived. If you prepaid for a yearbook, please come to the office to pick up your book. If you have not ordered, but still would like a copy, they are $25 and available now. Supplies are limited!

Families -- If you have not already done so, please bring your borrowed technology back to the main office by the end of this week. If you plan on purchasing the devices, you still need to come in with the devices so we can clear the Arcohe passwords off them and collect payment.

Update-Valley Drilling was able to come to campus this morning and fix the issue with the main well. School will be in session tomorrow for the last day of school. Reminder-12:30 dismissal time.

Families-due to an issue with the main water line, the campus has no water this morning. Without toilets and sinks, we cannot have students on campus. School is cancelled for Monday. We will give an update later regarding school tomorrow. The 8th grade field trip is still going. Buses will pick up 8th grade bus riders only this morning.

Technology turn-in event today until 5PM in the East Campus Media Center. Please bring your devices with you even if you plan on purchasing them.

Families -- We are looking for some help. Due to the coronavirus, classroom and hallway drinking fountains have been temporally turned off and, as it has started to get warmer, there is a higher need for student hydration. We have installed three touchless bottle filling stations on campus but students need a bottle to fill up. Please send a bottle with a lid with your child so he or she can stay hydrated throughout the day. If you are looking for something to donate, consider sending a case of water to your child's classroom for others without a bottle. Thanks.

Reminder to Families -- Fridays are minimum release days for the rest of the year. Students will be let out of class at 1:30. Please make arrangements for pick up at the school or from the bus stop. Have great weekend!


We are now enrolling new students electronically through Aereis. Please share with parents of incoming kindergartners or students enrolling at Arcohe for the first time in the Fall:
https://arcoheuesd.aeries.net/enrollment/


In observance of Presidents' Day on Monday, February 15th, there will be no school for students and the campus will be closed. Have a great three-day weekend!

Don't forget to swing the school today to pick a free breakfast and lunch pack for the kids. We are out front until 12:30!

ARCOHE KINDERGARTEN REGISTRATION 2021-2022 Arcohe School is accepting Kindergarten and Transitional Kindergarten registration starting February 1, 2021, for the 2021-22 school year. A registration packet for your child may be picked up and/or dropped off during the hours of 7:30 a.m. to 3:30 p.m. Your child's birth date must have been on or before September 1, 2016 for Kindergarten. Children with birthdays from September 2, 2016 through December 2, 2016 will be enrolled in Transitional Kindergarten. Children with birthdays from December 3, 2016 through February 28, 2017 will be considered for the Transitional Kindergarten program based on space availability.

Buy your yearbook NOW!!!!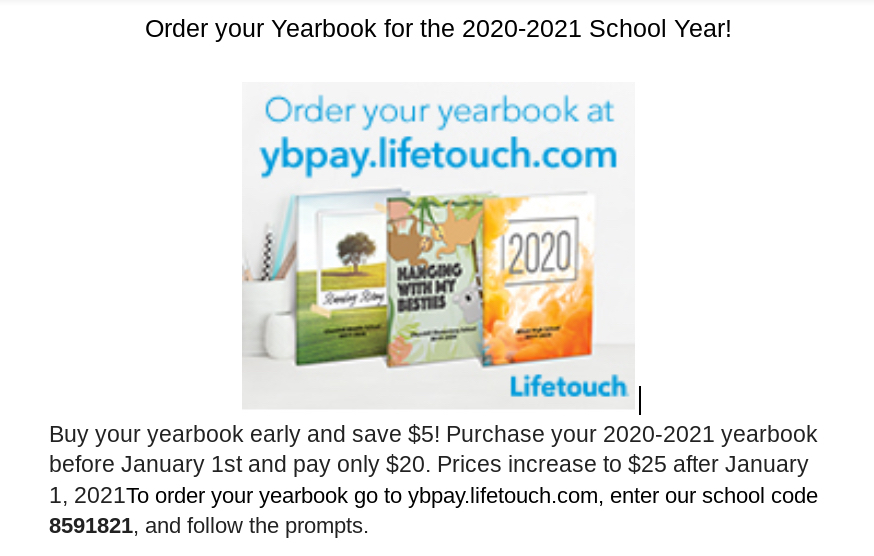 With the school closure, we will have to have families come to campus to pick up Grab and Go Meals for over break. If you are in need a meal, the cafeteria will have packages available at 1:30 on Wednesday and Thursday this in front of school.

Good afternoon Arcohe families, This is an announcement regarding school for the remainder of the week. We learned this morning we have a positive COVID-19 case on the middle school campus and a possible exposure of a staff member in the main office. Since these cases affect multiple segments and multiple cohorts, the district contacted the Sacramento Public Health Department and has decided it is in the best interest of all to close the physical campus for the remainder of the week and go back to the distance learning model. This means teachers will be contacting students through Google Meet and Google Classroom for the remainder of the week. Please check your child's Google Classroom account for more information. With school closed next week for Thanksgiving, we will have the necessary quarantine time for students to return to campus on Monday, November 30th. Students who have direct exposure to the confirmed case will be contacted directly by the main office to monitor symptoms, but we ask all families to monitor on their own over the next two weeks. If your child experiences COVID-related symptoms, please call the main office and leave a message. We would like to keep tabs on cases to make informed decisions about our next steps. Please make good choices regarding your health over this holiday break and come back well. Respectfully, Troy Miller

Just a reminder, school is out at 1:30 all week due to conferences.

Just as a reminder--there is no school tomorrow due to Veterans' Day. Thank you to all who have served our country!! We will back in session on Thursday with our "B" cohort. Be well!